SADDAM
A Boy From Tikrit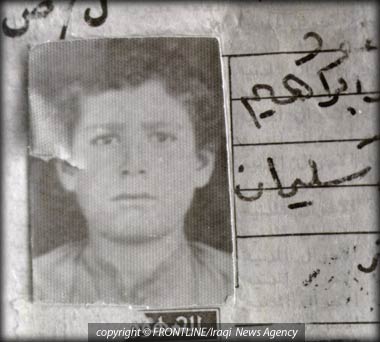 Excerpt from BBC NEWS -- Saddam's 63rd Birthday
Friday, 28 April, 2000, 17:11 GMT 18:11 UK
Saddam's birthday celebrations
Crowds celebrate at Saddam's home town of Tikrit

Iraq marked President Saddam Hussein's 63rd birthday on Friday with nationwide festivities in a lavish display of government-sponsored loyalty toward /their/leader. . . But while many senior Iraqi leadership figures attended celebrations at Saddam's home town of Tikrit, the president himself stayed away as he has done in recent years.

Instead Izzat Ibrahim, his deputy in the all-powerful Revolutionary Command Council, presided over the celebrations which featured dancing, songs and a huge flower-shaped cake.

Marquees lined the 170km (106 mile) route from Baghdad to Tikrit, where huge cauldrons of rice and stewed meat were cooked and streets were festooned with ribbons.

After cutting the cake to the tune of "Happy Birthday To You", Ibrahim said: "We ask God ... to prolong his life and make this an occasion of victory to us and to our nation against our enemies and the enemies of humanity."