This organization was formed February 17, 2001 and is actively seeking an end to the war against Iraq.



Visit their site for details on the October 26, 2002 March on Washington, D.C.
March on Washington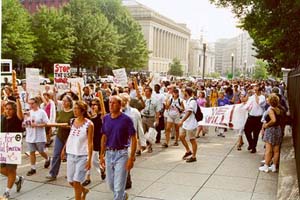 When have YOU demonstrated against the war in Iraq and now against the "New War" that is being formulated and proclaimed by the new regime in Washington? Perhaps the real war must be won by the Americans internally.

There is little gained by waving the flag.
". . .and if the Resolution (986)
is not summarily tabled, as God is my Witness,
the World will feel

the Wrath of the Father. . ."

September 11, 2001 -- the Wrath of the Father.