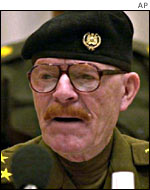 "Ba'athists" -- back with a grin!
The UH-60 Black Hawk was hit by anti-aircraft fire in Taji, 12 miles north of the capital, the military said. . .The crew was rescued and the helicopter was recovered . . . the third time a U.S. helicopter was shot down this week.
They are NOT insurgents -- they are the REAL Iraqis -- mujaheddin.
click picture to link to Jubliation website
"The Iraqi peasant brought down the helicopter with an old Czech rifle."
Two U.S. Helicopters Shot Down in Iraq - ArabiyaReuters via Yahoo! News

Thu, 11 Nov 2004 5:45 AM PST

Two U.S. Cobra helicopters have been shot down near the Iraqi city of Falluja, Al Arabiya television said on Thursday, quoting U.S. military sources.